Accommodation: Apartment Krasici
Krašići, Montenegro
category
category
category
Number of views: 12053
from
10€
per person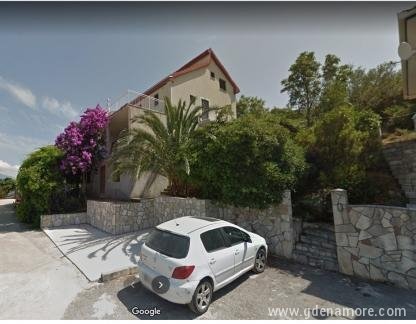 Contact Person:

Vesna Rankovic

Address:

Cerska ulica

City: Krašići, Montenegro
Phone:

0637143923

Cell Phone:

0637143923
Contact owner
Show map
Owner speaks languages:Serbian, English, Russian
Apartment:
Room:
Studio:
Whole object
We rent an apartment - duplex in Krasici. The apartment is located in a private house, with a separate entrance, with two parking spaces. The first level of the apartment has two bedrooms, living room, kitchen, bathroom and a large open terrace overlooking the entire Boka. On the second level of the duplex is another bathroom, and another bedroom.

The apartment can accommodate 6-8 people, because in the living room there is a sofa bed. The apartment is located about 100m from the beach (sixth row). The beach can be reached by stairs through the village or by car on the street.

The apartment is, if necessary, equipped with towels, bed linen, in the kitchen there are complete dishes, stove and refrigerator.

The house where the apartment is located is in a quiet part of Krasic, with a divine view of the entire bay. Krašići is located very close to Tivat Airport, also very close to Kotor (4km). In Krašići itself, there is a large supermarket, several smaller shops, as well as several authentic and picturesque restaurants.

For all additional information and questions, feel free to call 0637143923 Vesna Ranković.
Legend:
All rooms, apparments
Some rooms, apartments
No
Capacity:

8

Seaview:
Water 24h:
Bathroom:
Kitchen:
Room service:
Safe box:
Large terrace:
Balcony:
Air conditioning:
TV:
Cable TV:
Internet:
Telephone in the room:
Parking:
Garage:
Pool:
Suitable for children:
Pets allowed
Suitable for disabled people:
Characteristics of accommodation
Legend:
All rooms, apparments
Some rooms, apartments
No
Capacity:

8

Seaview:
Water 24h:
Bathroom:
Kitchen:
Room service:
Safe box:
Large terrace:
Balcony:
Air conditioning:
TV:
Cable TV:
Internet:
Telephone in the room:
Parking:
Garage:
Pool:
Suitable for children:
Pets allowed
From the center:

-

From the beach:

100 m

From bus station:

100 m

From airport:

10 km
From ambulance:

15 km

From restaurant:

100 m

From sports fields:

-
Prices and payment options
Payment options:
Cache:
By bank transfer:
Credit cards:
In Pre-season

Po dogovoru

In high-season

50

In post-season:

Po dogovru

Out of season:

Po dogovoru
Updated: 11/08/2023
Powered by GdeNaMore.com